I love when I see my pictures posted on another blog. :) Don't you??
Allison at House of Hepworths has featured me this week. Ya,uh!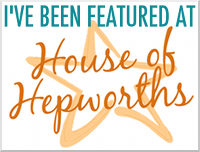 http://images.houseofhepworths.com/buttons/2013-logo-link-party-featured-button-hoh.png
She featured the molding I put on the kitchen/dining room doorway. Timely, since I am working on the dining room/entry doorway this weekend. In between football games. My boys are now playing football and we no longer have any free time. Or social life. At. All. So this project may take a while.
Good thing I love these little guys!
Check out her wonderful blog over at House of Hepworths. She has killer ideas. Many of which I have
stolen
affectionately copied.
Thanks Allison! You Rock!